Quantity in Basket: None
Code: ATP-COB-001
Price:

$2,879.99


Shipping Weight: 70.00 pounds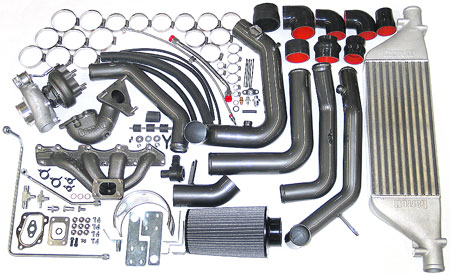 The Garrett® Chevrolet Cobalt Turbo Kit is for the 2.2L Ecotec engine for LS coupe and sedan model years 2005 and above. A GT2860RS "Disco Potato" ball-bearing turbocharger and all of the necessary components are included to complete the installation in your own garage!
Chevy Cobalt LS and LT coupe and sedan models with the 2.2L Ecotec engine
Model years 2005 and later
Garrett exclusive ball-bearing turbo for unbeatable response, efficiency and durability.
Four trim levels are available, from a complete solution to a tuner's dream.
Garrett® Turbo Essentials Kit (P/N 772764-3)
Garrett® GT2860RS Turbocharger
Cast turbo manifold
Cast down pipe
Gaskets and fasteners
Garrett® Turbo Essentials Plus Kit (P/N 766621-3)
Essentials Kit items
Oil and water lines
Attachment hardware
Garrett® Turbo GT Tuner Kit (P/N 766621-2) - AS PRICED AND AS PICTURED HERE ON THIS PAGE!
Essentials Plus Kit items
Charge air cooler
Charge air cooler plumbing
Hardware
PERFORMANCE COMPARISON SHOWN BELOW (WHEN USING GT2860RS TURBO)
Stock
Garrett Turbo Kit
HP
136 lbf/ft @ 5500 rpm
198 @ 5000 rpm
Stock
139 lbf/ft @ 4000 rpm
219 lbf/ft @ 4000 rpm