** ATP IS SHIPPING EVERYDAY DURING THIS NEW COVID-19 WORLD ORDER **
Catalog Home
>
Class Legal Turbos
>
Import Revolution
>
True Street
3" V-Band Downpipe - Low Profile 90 Degree w/Flex
Quantity in Basket:
None
Code:
ATP-MDP-010
Price:
$175.00
Shipping Weight:
6.00
pounds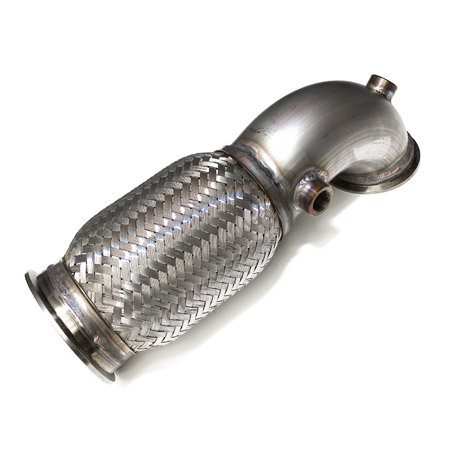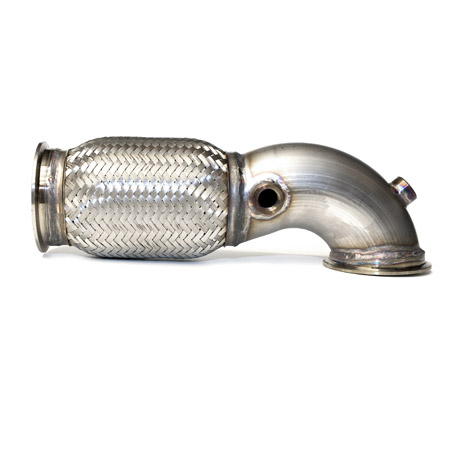 3" V-band downpipe low profile 90 degree with flex section. 100% stainless with stainless V-band flanged on both ends and dual stainless O2 bungs. Stainless flex section as well. All TIG welded construction. Very easy to pack into tight spots.
Total Length of Part (Top to Bottom): 13"
Total Depth of Part (Face of V-Band Flange to back of bend): 4.5"
Related Item(s)
Related Parts:
Code
Name
Price
ATP-GSK-025
3" V-band Gasket
$4.95
ATP-FLS-012
Flange, Standard 3" V-Band MILD STEEL (3.75" OD flange, Grooved for 3" OD Tube)
$15.95
CLC-CLA-013
3" V-Band Clamp - for 3.75" OD Flanges - typically DOWNPIPE SIDE - or General V-band Joint
$15.95
ATP-MDP-001
3" V-Band Pipe - 45 Deg
$89.00
ATP-MDP-002
3" 90 V-Band Pipe - Short Leg
$89.00
ATP-MDP-003
3" 90 V-Band Pipe - Long Leg
$89.00
ATP-MDP-004
3" V-Band Cat - High Flow Metallic Spun ROUND Cat - 200 cell
$149.00
ATP-MDP-005
3" V-Band Staight Pipe
$79.00
ATP-FLS-063
Flange, Standard 3" V-Band STAINLESS STEEL (3.75" OD flange, Grooved for 3" OD Tube)
$19.95