Catalog Home
>
Accessories/Controls
VES-MAIN-VALVE-UNIT - out of stock again until unknown date due to production delays
Quantity in Basket:
None
Code:
ATP-ACS-007
Price:
$139.00
Shipping Weight:
2.00
pounds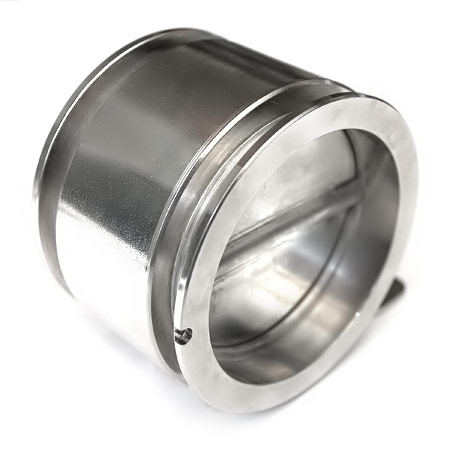 V3.0 Now V-Band flanged on both sides! Main valve unit for VES, Housing with butterfly valve, no actuator.
The VES system is a system that works "on demand" at the onset of boost on turbo and supercharged vehicles to free up all the backpressure (just as a large exhaust system would) in the exhaust stream so the engine can make maximum power. The VES system works as an active dump tube that completely bypasses the restrictive exhaust system when boost is present. As soon as the turbo spools, the valve begins to open. By the time the turbo makes full boost, the valve is fully open.
Highlights of the way VES works:
Completely quiet and stock-like sounding during startup, idle, and cruising.
0 delay in valve response to boost, yet very smooth transition into boost mode.
Automatic open/close under boost using existing boost source on turbo engine and does not rely on wing nuts or electrical motors.
Integrate a boost controller to control when the valve opens or completely turn it off.
Addresses virtually all complaints associated with large 3" cat-back exhaust systems.
Highlights of how our VES components are built:
Related Item(s)
Related Parts:
Code
Name
Price
ATP-ACS-010
VES-ASSEMBLY - out of stock again until unknown date due to production delays
$285.00
ATP-ACS-008
VES-ACTUATOR
$79.00
ATP-ACS-009
VES-TEEPIPE-STAINLESS
$49.00