** ATP IS SHIPPING EVERYDAY DURING THIS NEW COVID-19 WORLD ORDER **
Catalog Home
>
Vehicle Specific
>
Ford Focus ST 2.0L Turbo (2013+)
GEN2 - GTX2860R Bolt-On Turbo for the 2.0L EcoBoost Focus ST - w/ .86 A/R Turbine Side
Quantity in Basket:
None
Code:
ATP-FOC-B24
Price:
$2,495.00
Shipping Weight:
35.00
pounds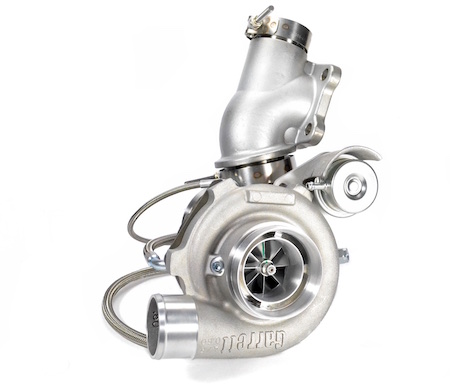 Click to enlarge images
PRODUCT DESCRIPTION:
NOW AVAILABLE - GEN2 - GTX2860R Bolt On Turbo for the Ford Focus ST!
Even MORE EXPLOSIVE POWER through Garrett Gen2 technology to the popular direct drop-in upgrade turbo for the 2.0L EcoBoost Ford Focus ST. New features include a cast Stainless Steel head flange to turbo adapter and cast Stainless Steel turbo outlet to down-pipe adapter.
Stock Location, Direct Bolt-on
Internally Wastegated
Built-in external wastegate port (Tial MVS) for future expansion. Capoff provided
V-band flanged turbo adapter (NOW Stainless Steel)
Any stock turbo flanged downpipe will fit
Any stock placement intake pipe will fit. Adapter elbow provided.
Any stock placement charge pipe will fit
New steel braided oil feed and coolant lines provided
Fits stock oil drain tube
Product Applications:
+2013 Ford Focus ST
+2013 Ford Fusion 2.0L Ecoboost