Turbine Housing, T3 5 bolt (ford style) .48 A/R for GT28RS, GT2871R, GT2876R, GTX28R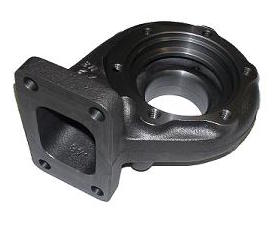 PRODUCT DESCRIPTION:
T3 Inlet and 5 bolt (Ford Style) Outlet Turbine Housing in .48 A/R. Available for Garrett GT2860RS (aka GT28RS), GT2871R, GT2876R, GTX2860R, GTX2863R, GTX2867R, GTX2871R turbo models.
Can be set up for either internal or external wastegate setup, depending on downpipe flange type. See related parts.
ALTERNATE TURBOCHARGER FITMENT OPTIONS:
* GT2554R or GT2560R (SELECT Alternate Turbo Model Fitment Options: GT2554R or GT2560R)
* GT3071R, GT3076R, GTX3067R, GTX3071R, or GTX3076R (SELECT Alternate Turbo Model Fitment Options: GT30R or GTX30R - 60mm Turbine Wheel)