** ATP IS SHIPPING EVERYDAY DURING THIS NEW COVID-19 WORLD ORDER **
Catalog Home
>
Turbos & Housings
>
Garrett GTX Gen2
>
Garrett GTX3076R Gen2 Reverse Variants
Garrett V-band Entry & Ni-Resist Turbine Housing for GTX30-RR (Reverse Rotation) .61 A/R
Quantity in Basket:
None
Code:
ATP-HSG-343
Price:
$530.55
Shipping Weight:
6.00
pounds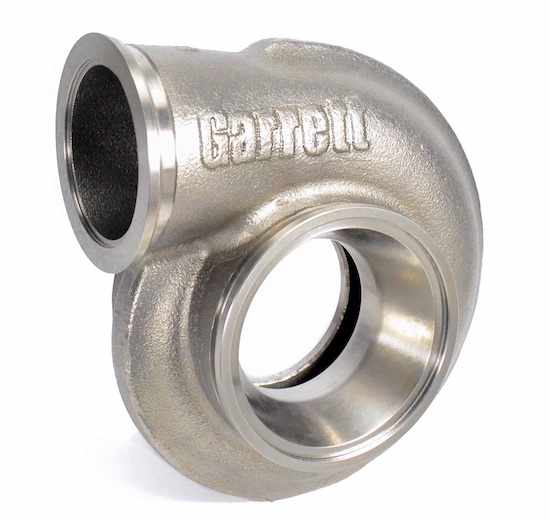 Click to enlarge images
PRODUCT DESCRIPTION:
Garrett V-band Entry & Ni-Resist Turbine housing or GTX reverse rotation GTX30 models. The turbine housing is .61 A/R and 3 inch V-Band outlet (81mm centering ring).
The turbine housing includes a turbine inlet clamp and turbine outlet clamp. Flanges not included.
** Reverse Rotation Fitment Only **
COMPATIBLE GARRETT TURBOCHARGERS:
GEN2-RR GTX3071R (reverse rotation)
GEN2-RR GTX3076R (reverse rotation)
PRODUCT CONTENTS:
(one unit) Ni-Resist Garrett Turbine Housing (reverse rotation)
(one unit) V-Band inlet clamp
(one unit) V-Band outlet clamp
(one unit) CHRA to turbine housing clamp and bolt kit
FLANGES AND CLAMPS:
Compatible turbine housing inlet flange (product code: ATP-FLS-191)
Compatible turbine housing outlet flange (product code: ATP-FLS-246)
Compatible turbine housing inlet clamp (product code: CLC-CLA-047)
Compatible turbine housing outlet clamp (product code: CLC-CLA-048)
APPLICABLE GARRETT PART NUMBERS:
740902-0053