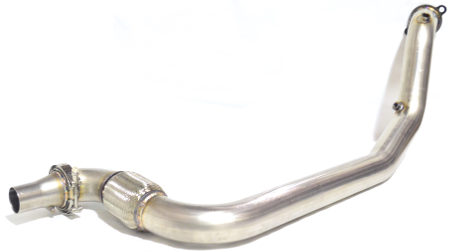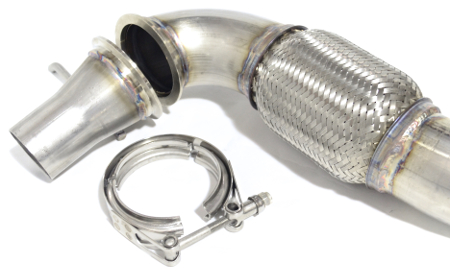 3" Stainless V-band flange, clamp,
and transition adapter to stock exhaust
Stock downpipe vs. ATP standard downpipe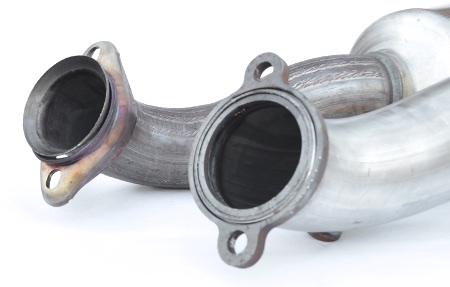 Stock "Donut" Flange vs. ATP Flange with Fire Ring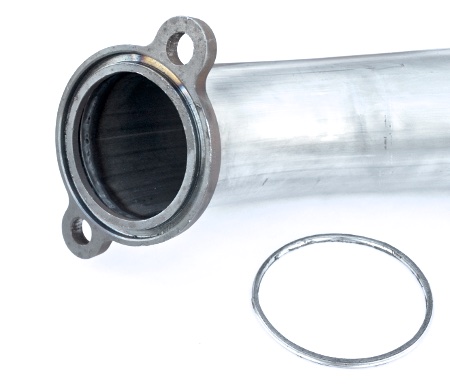 ATP Downpipe - Stock Turbo Flange with Fire Ring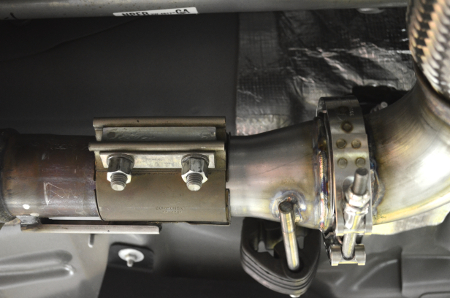 ATP downpipe mounted to stock exhaust
Dyno: Tune Only vs. Stock (Click to Enlarge)
Dyno: ATP Downpipe & Tune vs. Tune Only (Click to Enlarge)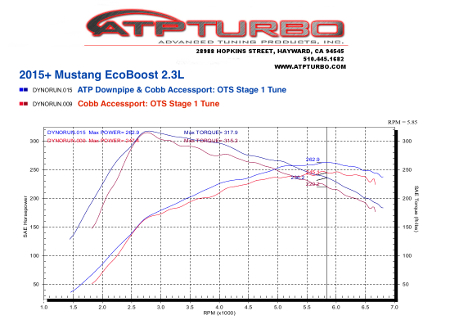 Dyno: ATP Downpipe & Tune vs. Stock (Click to Enlarge)
PRODUCT DESCRIPTION:
2015+ Mustang Ecoboost - 3" Stainless downpipe with modular capability for FULL 3" downpipe to 3" exhaust system or stock exhaust system.
Includes Stainless 3" V-band Flange for full 3" exhaust system and transition adapter for stock exhaust system compatibility (3" stainless V-band flange to 2.25" slip joint stock exhaust system).
Direct bolt-on to stock turbo and stock (or stock location) cat back exhaust system. Rear V-band transition allows easy install connection to stock catback or any aftermarket catback exhaust system; and provides an easy solution to upgrade to a true 3" exhaust system in the future by simply removing the rear transition adapter.
Manufactured in-house using precision CNC Mandrel pipe bending machinery
PRODUCT SPECIFICATIONS & FEATURES:
* 3" Stainless piping
* 3" Stainless V-band flanges
* 3" Stainless V-band flange transition adapter to stock 2.25" slip joint stock exhaust system
* 100% 304 grade stainless
* Stock turbo and stock (or stock location) cat back exhaust system compatible
* Eliminates stock donut style gasket at the turbo with a fire ring style flange and gasket