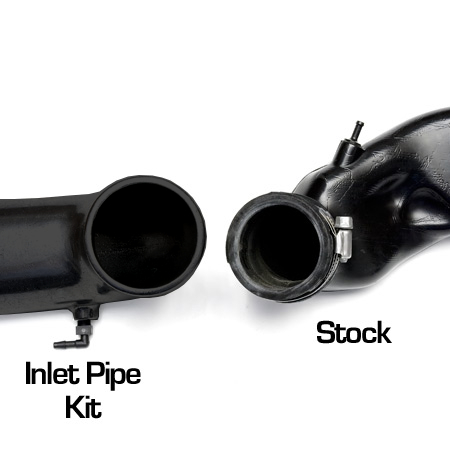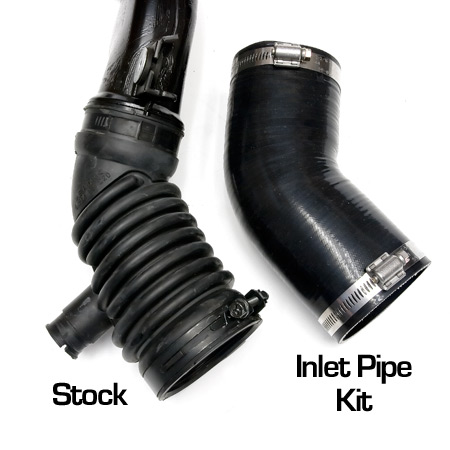 PRODUCT DESCRIPTION:
High flow 3" inlet pipe kit for MS3 (Mazdaspeed3) turbo engine. Replaces the restrictive "pancaked" inlet pipe between turbo and MAF housing built into the factory airbox.
3" Aluminium and BLACK powder coated finish intake pipe, transition connectors, and installation hardware included within each kit!
*** Please Note 02/05/2017: As pointed out recently by one of our customers, Alan Casey, the outside finish on the product was changed from a "tumble polished" raw aluminum to a more OEM-like "wrinkle black powdercoat".
The images of the pipe on our site have been modified to reflect the black color for now (instead of the outgoing polished look). However, as pointed out, these altered images do not yet 100% accurately depict the "exact" finish of the powder coated finish, especially the wrinkled texture. Please bear with us until we are able to get completely new pictures of the revised product clearly photographed in this wrinkled black finish. Thanks again to Mr. Alan Casey for pushing this effort along. ***
The turbo inlet pipe is the most critical area in the entire intake tract. Many companies make "intake" kits that replace the airbox only or the pre-airbox tube, but fail to address the prior piece, the inlet pipe attached directly to the turbo compressor inlet nozzle, which is often the bottleneck of the entire intake system. A compromised inlet pipe can hold back the entire turbo system from making power to full potential. Examine the molded factory plastic piece and you will find major flow impediments including a small diameter entry leading into a severely pinched shape flowpath. The flow is convoluted to say the least and net flow volume is less than desirable.
Our replacement piece which was built to handle the flow requirements of the big Garrett turbo upgrade, is constructed from aluminum, formed with smooth transitions to integrate a more desirable flow path, and accomodates much more volume because itŐs all 3Ó throughout. The unit can also be ordered with the proper transition coupler to fit the stock turbo and unleash more power from it. Includes all parts from turbo inlet to your "intake". Specify Garrett 4" inlet or stock turbo 2" inlet. Specify color: black, red, or blue silicone connectors.
Click for Dyno Data