Catalog Home
>
Turbos & Housings
>
GT/GTX BB Install Parts
-4 size Oil inlet fitting for GT28 GTX28 GT30 GTX30 GT35R G25 G30 G35 w/ built-in .035" RESTRICTOR
Quantity in Basket:
None
Code:
ATP-OIL-021
Price:
$12.00
Shipping Weight:
0.25
pounds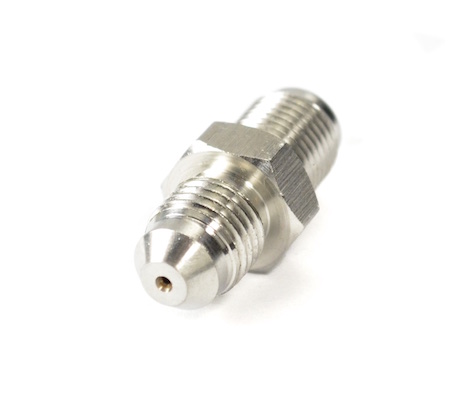 CLICK HERE for more restrictor options
Product Description:
-4 (-4AN) Size oil inlet restrictor fitting (0.035" orifice / hole size) for Garrett GT and GTX Ball Bearing Turbochargers. Output is -4AN male flare. High durability and reusable Stainless Steel material.

Use with any -4AN oil feed lines with a -4AN female hose end!

Fits Garrett GT25R, GT28R, GT30R, GT35R, GTX28R, GTX29R, GTX30R, and GTX35R series models.
Related Item(s)
Related Parts:
Code
Name
Price
ATP-OIL-014
Oil Feed Line #4 (-4 AN) - SS Braid 3 Ft. (36 inches) Length
$34.00
ATP-OIL-015
Oil Feed Line #4 (-4 AN) - SS Braid 4 Ft. (48 inches) Length
$34.00
ATP-OIL-016
Oil Feed Line #4 (-4 AN) - SS Braid 5 Ft. (60 inches) Length
$44.00
CUSTOM-OIL-FEED-LINE
Custom Oil Feed Line - Built to Order #4 (-4 AN) size Steel Braided
$20.00
ATP-FTG-029
-4 size Oil inlet fitting for T25/T28 or unrestricted GT25R/GT28R/GT30R/GT35R
$8.50
ATP-OIL-033
Oil Feed Line #4 (-4 AN) - SS Braid, 1 Foot (12 inches) length
$34.00
ATP-OIL-034
Oil Feed Line #4 (-4 AN) - SS Braid, 2 Foot (24 inches) length
$34.00
ATP-OIL-035
Oil Feed Line #4 (-4 AN) - SS Braid, 18 inches length
$34.00
ATP-OIL-036
-3 size Oil inlet fitting for GT28 GTX28 GT30 GTX30 GT35R G25 G30 G35 w/ built-in .035" RESTRICTOR
$12.00
ATP-FTG-065
Black anodized -4 AN STRAIGHT hose end
$7.95
ATP-FTG-066
Black anodized -4 AN 45 DEGREE hose end
$14.95
ATP-FTG-064
Steel Braided Hose, -4 AN size
$8.25
ATP-FTG-038
UNRESTRICTED Banjo Bolt for Low Profile oil inlet - GT & GTX (GT25 through GTX35)Ball Bearing Turbo
$14.95