** ATP IS SHIPPING EVERYDAY DURING THIS NEW COVID-19 WORLD ORDER **
Catalog Home
>
Vehicle Specific
>
Audi / VW - 2.0T FSI/TSI FWD (MK5 / MK6)
*SOLD OUT - NO ETA* GT2871R Turbo Kit for 2.0T FSI FWD VW GTI/Jetta and Audi A3 (400HP)
Quantity in Basket:
None
Code:
ATP-VVW-193
Price:
$2,950.00
Shipping Weight:
72.00
pounds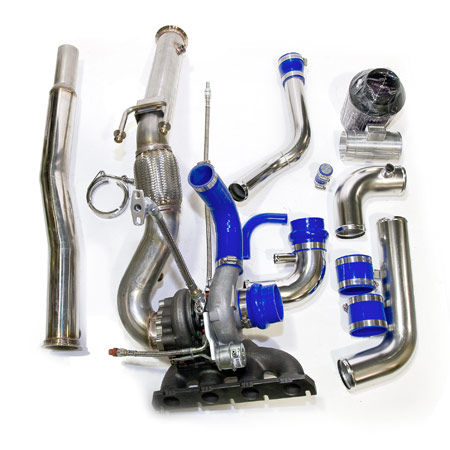 PRODUCT DESCRIPTION:
400HP GT2871R Turbo Kit for 2.0T FSI FWD (Front wheel drive model) VW GTI/Jetta and Audi A3. Internally wastegated design using the popular GT2871R dual ball bearing turbo with all the complimentary components including 3" downpipe and 3" inlet pipe. Add you preferred tuning solution and go.
APPLICATION NOTES:
The turbo kit does NOT include a mechanical blow off valve. Alternatively, the stock electronic diverter valve may be integrated into the charge pipe system with the relocation kit,
Product Code: ATP-VVW-212
.
Related Item(s)
Related Parts:
Code
Name
Price
ATP-VVW-178
*SOLD OUT - NO ETA* FMIC (Front Mounted Intercooler) Kit for 2.0T FWD FSI /TSI (2006-2010 GOLF/GTI/
$749.00
ATP-VVW-186
*SOLD OUT - NO ETA* GT3071R Turbo kit for FWD 2.0T FSI, MKV VW Golf/GTI/Jetta and Audi A3 (500HP)
$3,250.00
ATP-VVW-192
*SOLD OUT - NO ETA* GT28RS Turbo Kit for 2.0T FSI FWD VW GTI/Jetta and Audi A3 (350HP)
$2,895.00
GRT-TBO-200
Kit Upgrade Charge, upgrade GT28XXR in turbo kit to GTX2863R
$300.00
GRT-TBO-201
Kit Upgrade Charge, upgrade GT28XXR in turbo kit to GTX2867R
$300.00
GRT-TBO-202
Kit Upgrade Charge for GTX28XXR In Kit to GTX2860R Spec
$300.00