UNDERGOING PRODUCT REVISION - Audi A4, 2.0T B7 Mild Turbo Conversion (350HP) K03 to Garrett (modifie
***** This product has been replaced by P/N: ATP-VVW-255 which you can purchase outright and no core is required to be sent in from you. *********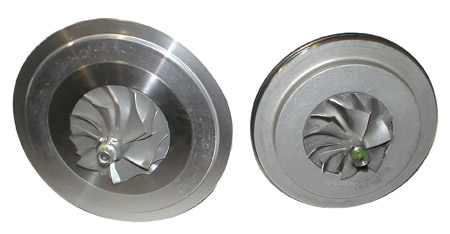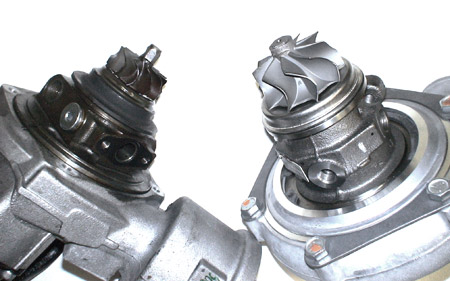 Mild Turbo Kit (350 crank HP) for the longitudinally mounted 2.0T FSI engine found in the 2005.5 to 2008 Audi A4. Full conversion kit to convert stock K03 turbo to a Garrett based unit capable of 350 crank HP (stock is 200 crank HP). This is a great conversion for customers who want a decent amount of power but want the engine bay to remain stock-like and stealthy while keeping the other components such as engine block, clutch, fuel system, intercooler, exhaust system, etc. relatively stock. Due to the extremely efficient Garrett wheel combination, we are able to reach 350 crank HP @ 18 psi of boost while still running the stock exhaust (mated to our 3" racepipe made for the stock turbo), stock intercoolers, and stock injectors.


Kit comes with all parts required to "bolt-on" and run including stock turbine manifold/turbine housing (customer provided) modified to accept Garrett rotation assembly, Garrett compressor housing and Garrett high pressure wastegate actuator, all pre-assembled and ready to bolt on as 1 piece. Also comes all new steel braided oil feed line, coolant line assemblies, and oil return line assembly along with all relevant fittings. Also includes 3" turbo inlet pipe(to help the big turbo breathe) and all plumbing to stock airbox and stock intercooler for a 100% bolt-on affair. Just add the tuning of your choice and go.
OK to use stock cat, but we recommend the addition of our
ATP-VVW-190
(or equivalent).
Note: This part requires a working core (the integrated manifold/turbine housing only)off the stock turbo assembly. Customer must send the stock turbo for us to perform the conversion process or pay an upfront $1300 (which will be refunded upon receipt of the core). Only the manifold/turbine housing is needed. If complete turbo is received, we will return the rest of the turbo to you.
Once the order is placed, just put the order number on the package with your stock turbo coming back to us and we'll take care of the rest!
***** This product has been replaced by P/N: ATP-VVW-255 which you can purchase outright and no core is required to be sent in from you. *********