** ATP IS SHIPPING EVERYDAY DURING THIS NEW COVID-19 WORLD ORDER **
Catalog Home
>
Vehicle Specific
>
Audi / VW
>
VW/Audi Turbo Kits
97-04 Audi/Passat 1.8T Eliminator GTX2863R Hardware Kit
Quantity in Basket:
None
Code:
ATP-VVW-363
Price:
$1,795.00
Shipping Weight:
20.00
pounds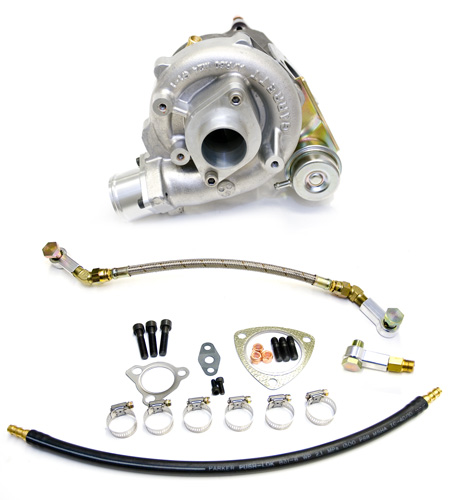 97-04 Audi/Passat 1.8T Eliminator GTX2863R Hardware Kit. Longitudinal 1.8T fitment for 1997 to 2004 VW Passat and Audi A4 1.8T both FWD and Quattro. Quick Spool GTX compressor technolog ywith high HP capabilities to 450HP.
Ball bearing GTX2863R bolt-on turbo kit utilizing stock exhaust manifold in stock location. Includes all hardware required for complete bolt-on. Completely stealth and stock appearing. Retains all emissions related components. Fueling kit is recommended to compliment this hardware kit.
Click
here
for installation manual.
This unit is uniquely built to drop right in and replace your stock turbo. It's compatible with the factory stock exhaust manifold and stock downpipe (or stock flanged high flow downpipe). This is a very stealth and easy to install Garrett dual ball bearing turbo that is capable of a lot of power, but in the stock location package.