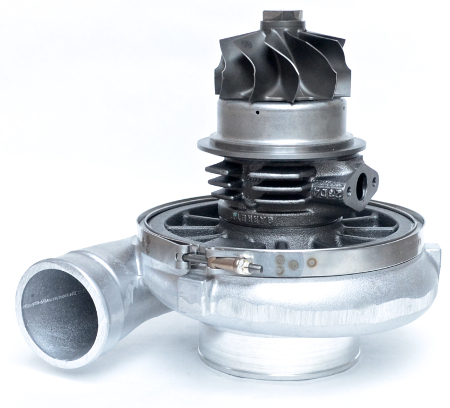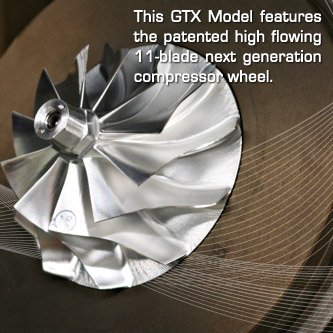 PRODUCT DESCRIPTION:
Race class engineered Garrett GTX5533R offering up to 2,000HP! Features a 98.4 mm inducer, 133.3 mm exducer, and 50 trim compressor wheel designed for specific race class rules.
The GTX5533R utilizes the same turbine housing as the GT55 series turbochargers. The external dimensions of the GTX5533R are nearly identical to the GT55 series.
Upgrade to a GTX5533R 98mm and unleash 2,000HP!
PRODUCT SPECIFICATIONS:
* Compressor Wheel Inducer: 98.4mm
* Compressor Wheel Exducer: 133.3mm
* Compressor Wheel Trim: 55
* Turbine Wheel Inducer: 111.5mm
* Turbine Wheel Exducer: 102.2mm
* Turbine Wheel Trim: 84
TURBINE HOUSING OPTIONS:
* T6 Undivided Inlet and 5.0 inch Outlet (Available in 1.00, 1.12, 1.24, 1.40, or 1.78 A/R)
* SFI Approved - T6 Undivided Inlet and 5.0 inch V-Band Outlet (Available in 1.00 or 1.24 A/R) - Additional $300.00 option
* SFI Approved - Stainless Steel V-Band Inlet and 5.0 inch V-Band Outlet (Available in 1.15 or 1.30 A/R) - Additional $900.00 option
* TiAL Stainless Steel V-Band Inlet and Outlet (Available in 1.15 or 1.30 A/R) - Additional $900.00 option
APPLICABLE GARRETT PART NUMBERS:
* 812704-08
* 812704-5008
* 812704-5008S
* 769210-5041S
CLASS LEGAL IN THE FOLLOWING RACE ORGANIZATION CATEGORIES:
* MIR - World Cup Finals: Outlaw Class (Small & Big Block twin turbo setup)
* MIR - World Cup Finals: Extreme Class (2 Rotor, 3 Rotor, 4 Cylinder, or 6 Cylinder RWD)
* MIR - World Cup Finals: Modified Class (2 or 3 Rotor RWD; 4 Cylinder FWD or RWD)
* MIR - World Cup Finals: Hot Rod Class (3 Rotor RWD; 6 Cylinder)
* MIR - World Cup Finals: Street Fighter Class - Import (6 Cylinder, RWD, & Manual)
* Duck X Productions: Radial vs. The World (Small & Big Block twin turbo setup)
* PDRA - Pro Extreme Class
** Please review class regulations for update rules and specific requirements **