Catalog Home
>
Turbos & Housings
>
Garrett GT - Ball Bearing
>
GT3071R With Special Housings
Garrett GT3071R Turbo - T04E 4" Inlet, .61 A/R V-Band Turbine Hsg.
Quantity in Basket:
None
Code:
GRT-TBO-943
Price:
$1,414.00
Shipping Weight:
3.00
pounds
Click to enlarge images
PRODUCT DESCRIPTION:
Garrett GT3071R ball bearing turbocharger with a T04E frame 4" Inlet and 2" outlet compressor housing; and a .61 A/R V-Band Inlet and GT 3" V-Band Outlet turbine housing in Ni-Resist material. 480+HP potential flow. The large 60mm turbine wheel compliments the 71mm compressor without compromising power. The GT3071R wheel ratio results in spool like a GT28.
PRODUCT FEATURES:
Genuine Garrett GT Aero compressor wheel
Genuine Garrett GT Inconel turbine wheel
Dual ball bearing CHRA rotating assembly
PRODUCT SPECIFICATIONS:
Compressor Wheel Inducer: 53.1mm
Compressor Wheel Exducer: 71mm
Compressor Wheel Trim: 56
Compressor Housing: 0.50 A/R T04E Frame 4" Inlet and 2" Outlet
Turbine Wheel Inducer: 60mm
Turbine Wheel Exducer: 55mm
Turbine Wheel Trim: 84
Turbine Housing: .61 A/R V-Band Inlet and GT 3" V-Band Outlet made from Ni-Resist material

COOLANT (WATER) & OIL FITTINGS, FLANGES, AND COMPONENTS SOLUTIONS:

Coolant - Water Options (Requires 2 units): 14mm Coolant Fitting & Lines
Oil feed options: -4 AN with built-in Restrictor (Product Code: ATP-OIL-021)
Oil drain flange: Product Code: ATP-FLA-010
Oil drain gasket: Product Code: GRT-GSK-008
8mm x 1.25 (thread pitch) Stud: Product Code: MIA-FST-030
8mm x 1.25 (thread pitch) Locking Head Nut: Product Code: MIA-FST-031
V-Band Inlet Flange (for Turbo Manifold): Product Code:ATP-FLS-191
V-Band Inlet Clamp: Product Code:CLC-CLA-047
V-Band Outlet Flange (for Downpipe): Product Code:ATP-FLS-246
V-Band Outlet Clamp: Product Code:CLC-CLA-048
COMPRESSOR & TURBINE MAPS: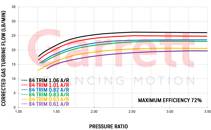 APPLICABLE GARRETT PART NUMBERS:
836028-5004S