** ATP IS SHIPPING EVERYDAY DURING THIS NEW COVID-19 WORLD ORDER **
Catalog Home
>
Turbos & Housings
>
Garrett GT - Ball Bearing
>
GT Turbos With Special Turbine Housings
>
GT2860RS With Special Housings
Turbo Garrett GT2860RS w/ .64 A/R VB25 Entry Garrett Int W/G w/14 psi actuator and 3" V-band Module
Quantity in Basket:
None
Code:
GRT-TBO-B51
Price:
$1,295.00
Shipping Weight:
3.00
pounds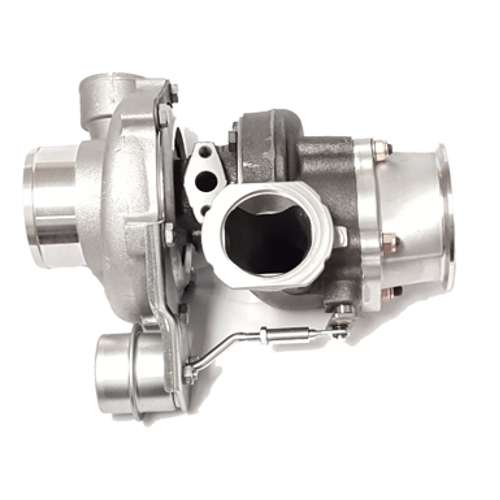 PRODUCT DESCRIPTION:
The dual ball bearing Garrett GT2860RS Turbo with .64 A/R Internal W/G VB25 Entry (TiAL Compatible) Modified Garrett Turbine Housing (T25 modified to V-Band). 3" Stainless V-Band discharge module included, along with Wastegate Actuator and Bracket, as shown.
If 350HP Level is what you're seeking from your turbo setup with the best possible boost response, the GT2860RS is the turbo for the job. Many "bigger" turbo setups have been outrun by the over-achieving GT2860RS. It's probably the most boost responsive turbo that is capable of making 350HP.
PRODUCT FEATURES:
Genuine Garrett GT Aero compressor wheel
Genuine Garrett GT Inconel turbine wheel
Dual ball bearing CHRA rotating assembly
PRODUCT SPECIFICATIONS:
Compressor Wheel Inducer: 47.2mm
Compressor Wheel Exducer: 60.1mm
Compressor Wheel Trim: 62
Compressor Housing A/R: 0.60, T04B Frame with 3" in/2" out
Turbine Wheel Inducer: 53.9mm
Turbine Wheel Exducer: 47mm
Turbine Wheel Trim: 76
COOLANT (WATER) & OIL FITTINGS, FLANGES, AND COMPONENTS SOLUTIONS:
Coolant - Water Options (Requires 2 units): 14mm Coolant Fitting & Lines
Oil feed options: -4 AN with built-in Restrictor (Product Code: ATP-OIL-021)
Oil drain flange: Product Code: ATP-FLA-010
Oil drain gasket: Product Code: GRT-GSK-008
V-Band Inlet Flange (for Turbo Manifold): Product Code:ATP-FLS-093
V-Band Inlet Clamp: Product Code:CLC-CLA-025
3" Stainless V-Band Flange (for Downpipe): Product Code:ATP-FLS-063
3" Stainless V-Band Clamp (for downpipe): Product Code:CLC-CLA-013
Alternate Flange and Clamps:
Alternate V-Band Inlet Flange (for Turbo Manifold): Product Code:ATP-FLS-185
Alternate V-Band Inlet Clamp: Product Code:CLC-CLA-047
COMPRESSOR & TURBINE MAPS: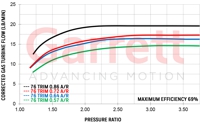 APPLICABLE GARRETT PART NUMBERS:
835998-0007
Related Item(s)
Related Parts:
Code
Name
Price
ATP-OIL-021
-4 size Oil inlet fitting for GT28 GTX28 GT30 GTX30 GT35R G25 G30 G35 w/ built-in .035" RESTRICTOR
$12.00
ATP-FLA-010
Aluminum - Oil Drain ( return ) Flange (GT25, GT28, GTX28, GTX29, GT30, GTX30, GT35, GTX35, T25, T28
$13.95
GRT-GSK-008
Oil Drain ( Return ) Flange Gasket - GT GTX Series GT25 through GTX35 and G25 G30 G35
$3.00