The Virtual Exhaust System explained:
The VES (Virtual Exhaust System) is designed for "real world" drivers who demand "race track" level power from their turbo car.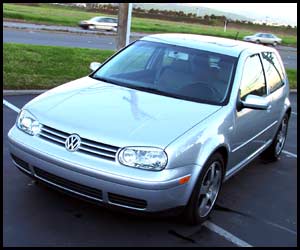 Turbo car owners know that a full 3" Cat-back (from the catalyst back to tail pipe) exhaust system, allows the turbo engine to make the most amount of power, but is often too noisy and uncomfortable for every day driving.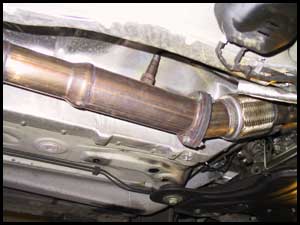 3.0" Racepipe
For some customers, installing a full 3" system means enjoyment from the newfound power and additional wheel spinning torque by unleashing the turbo exhaust flow. This is all good until exactly 1 week later when the additional power is overshadowed by downsides of the larger exhaust.

Some of the common complaints are:
Too loud at start up and at idle.
Too loud at part throttle driving.
Too much in-cabin noise during cruising speeds – can't hear the radio.
Draws too much attention from law enforcement.
Too many citations for modified exhaust -> leading to citations for modified engine components.
Car wakes up the neighbors when you come home at night.
Exhaust system needs constant adjustments because it doesn't clear the rear axle and rubs other parts of the car.

While we don't currently produce large cat-back exhaust systems (with good reason), we have observed and experienced all the above complaints from our customers (and ourselves).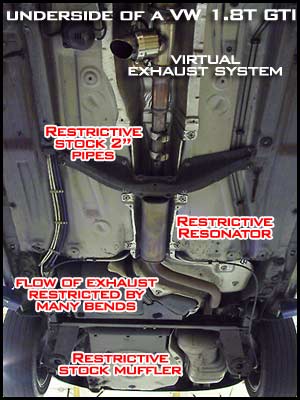 Enter the VES (Virtual Exhaust System)…….A system that works "on demand" at the onset of boost on turbo and supercharged vehicles to free up all the backpressure (just as a large exhaust system would) in the exhaust stream so the engine can make maximum power. The VES system works as an active dump tube that completely bypasses the restrictive exhaust system when boost is present. As soon as the turbo spools, the valve begins to open. By the time the turbo makes full boost, the valve is fully open.
Highlights of the way VES works:
Completely quiet and stock-like sounding during startup, idle, and cruising.
0 delay in valve response to boost, yet very smooth transition into boost mode.
Automatic open/close under boost using existing boost source on turbo engine and does not rely on wing nuts or electrical motors.
Integrate a boost controller to control when the valve opens or completely turn it off.
Addresses virtually all complaints associated with large 3" cat-back exhaust systems.

Highlights of how our VES components are built:

Solid billet steel construction holds up to high (turbo) temps and won't fatigue and fail in continuous heat.
Precision CNC machined to tighter tolerances for a gasket-less seal.
Built using existing, reliable wastegating technology.
Standard valve built to accept most common actuator bolt patterns for wide range of spring pressures.

Universal and applications specific kits will be made available, but as usual, all components will be available "a-la-carte" for our DIY and fabricator customers.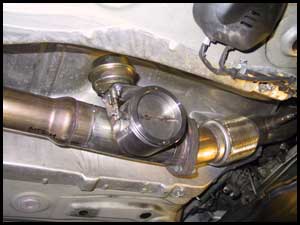 Virtual Exhaust Sytem Installed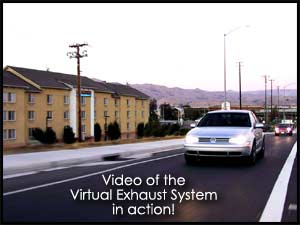 Right Click and Save As to Download
Dyno proven performance:

Test car: 2002 Volkswagen GTI 1.8T
Turbo Kit: ATP GT28RS Kit
Intercooler: Stock
Boost Level: 15PSI
Exhaust System: Stock muffler and exhaust piping
Exhaust Modifications: ATP Virtual Exhaust, 3.0" Downpipe