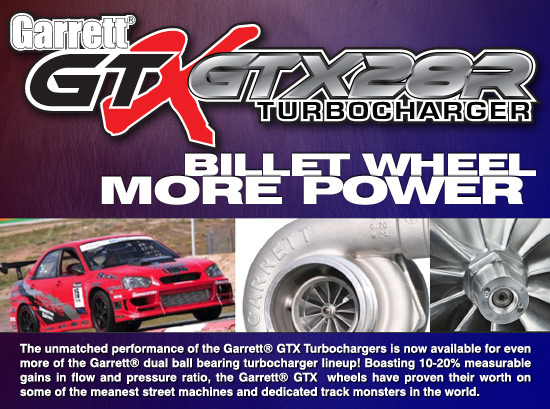 The unmatched performance of the Garrett® GTX Turbochargers is now available for even more of the Garrett® dual ball bearing turbocharger lineup! Boasting 10-20% measurable gains in flow and pressure ratio, the Garrett® GTX wheels have proven their worth on some of the meanest street machines and dedicated track monsters in the world.

BILLET WHEELS
Garrett® GTX wheels feature next-generation aerodynamics, fully machined from forged aluminum alloy. Each wheel is performance tested in stateof-the-art laboratories to insure the best design is used to deliver provable results without guesswork.

MORE SIZES
Garrett® GTX Turbochargers is now available in several new sizes including GTX2860R,
GTX2863R, & GTX2867R.

MORE POWER
The Garrett GTX28R turbos offer a marked increase in power over their Garrett GT counterparts while retaining their compact size for tightfitting engine bays.