** ATP IS SHIPPING EVERYDAY DURING THIS NEW COVID-19 WORLD ORDER **
Catalog Home
>
Turbos & Housings
>
Garrett GTX Gen2
>
Garrett GTX3582R Gen2 Reverse Variants
GEN2 - Garrett GTX3582R REVERSE Turbo with 1.01 A/R Garrett Undivided V-band Entry Turbine Housing
Quantity in Basket:
None
Code:
GRT-TBO-882
Price:
$2,541.50
Shipping Weight:
3.00
pounds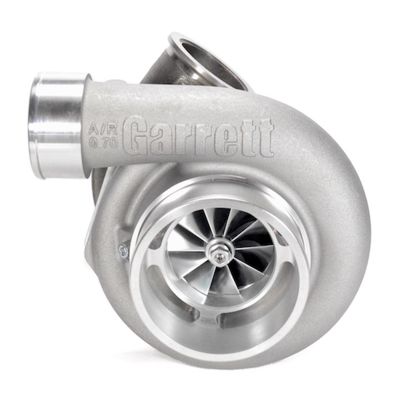 Click to enlarge images
PRODUCT DESCRIPTION:
Garrett GEN2 Reverse Rotation GTX3582R dual ball bearing turbocharger with a 1.01 A/R V-Band inlet and V-Band outlet Ni-Resist turbine housings. Advanced GEN2 billet compressor wheel capable of 850HP!
The Garrett reverse rotation series spins counterclockwise and offers new housing layout options for applications where a standard turbocharger (spins clockwise) does not provide sufficient clearance. Upgrading an OEM counterclockwise spinning turbo has never been easier with the Garrett GEN2 GTX Reverse Rotation series!
PRODUCT FEATURES:
Advanced aerodynamics & ultra high flow Garrett GTX GEN2 compressor wheel
Forged billet aluminum compressor wheel
Dual ball bearing CHRA rotating assembly
Reverse Rotation CHRA rotating assembly (spins counterclockwise)
Potential upgrade turbo solution when standard rotation turbo exceeds space limitations
Solution for symmetrical ("mirror") twin turbo setups
PRODUCT SPECIFICATIONS:
Compressor Wheel Inducer: 66mm
Compressor Wheel Exducer: 82mm
Compressor Wheel Trim: 64
Compressor Housing A/R: 0.70
Turbine Wheel Inducer: 68mm
Turbine Wheel Exducer: 62mm
Turbine Wheel Trim: 84
COOLANT (WATER) & OIL FITTINGS, FLANGES, AND COMPONENTS SOLUTIONS:
Coolant - Water Options (Requires 2 units): 14mm Coolant Fitting & Lines
Oil feed options: -4 AN with built-in Restrictor (Product Code: ATP-OIL-021)
Oil drain flange: Product Code: ATP-FLA-010
Oil drain gasket: Product Code: GRT-GSK-008
8mm x 1.25 (thread pitch) Stud: Product Code: MIA-FST-030
8mm x 1.25 (thread pitch) Locking Head Nut: Product Code: MIA-FST-031
Inlet V-Band Flange (For Turbo Manifold): ATP-FLS-191
Inlet V-Band Clamp: CLC-CLA-265
Outlet V-Band Flange (For Down-pipe): ATP-FLS-246
Outlet V-Band Clamp: CLC-CLA-048
NOTE: Alternate coolant and oil fittings and flanges are available.
COMPRESSOR & TURBINE MAPS: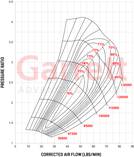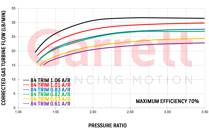 APPLICABLE GARRETT PART NUMBERS:
844626-5004S
856803-5006S
740902-0058
Related Item(s)
Related Parts:
Code
Name
Price
ATP-HSG-348
Garrett V-band Entry & Ni-Resist Turbine Housing for GTX35-RR (Reverse Rotation) 1.01 A/R
$530.55