** ATP IS SHIPPING EVERYDAY DURING THIS NEW COVID-19 WORLD ORDER **
Catalog Home
>
Vehicle Specific
>
Nissan Skyline RB26DETT
Garrett Gen2 GTX2860R - RB26DETT Twin Turbo Drop-In Upgrade, 1 Pair of 2 Turbos
Quantity in Basket:
None
Code:
GRT-TBO-K54
Price:
$3,195.00
Shipping Weight:
3.00
pounds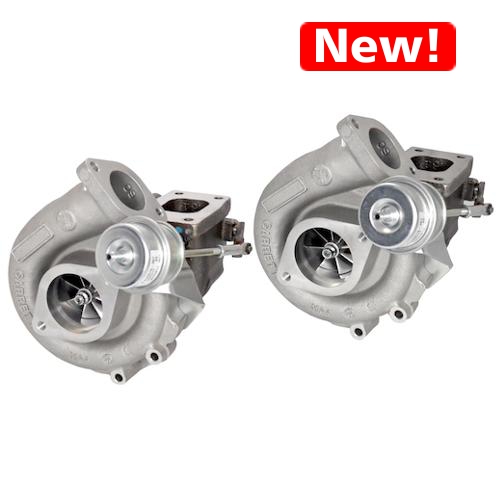 Product Description:
Garrett GEN2 GTX2860R dual ball bearing Twin Turbochargers for the Nissan Skyline GT-R RB26DETT. Supports 900HP+ in twin turbo configuration.

Includes Two (2) turbochargers as a bolt-on twin turbo solution for stock flange exhaust manifolds and O2 housings/dump pipes!
Product Features:
Advanced aerodynamics & ultra high flow Garrett GTX GEN2 compressor wheel
Forged billet aluminum compressor wheel
Dual ball bearing CHRA rotating assembly
Bolt-on for Nissan RB26DETT motor
Product Specifications:
Compressor Wheel Inducer: 46mm
Compressor Wheel Exducer: 60mm
Compressor Wheel Trim: 58
Compressor Housing: 0.60 A/R, RB26DETT Style 2 bolt inlet flange and 2 bolt outlet flange
Turbine Wheel Inducer: 54mm
Turbine Wheel Exducer: 47mm
Turbine Wheel Trim: 76
Turbine Housing: 0.64 A/R, T25 Inlet, Internal Wastegate Design, and RB26DETT Specific 5 Bolt Outlet
Internal Wastegate Actuator: 14PSI
Applicable Garrett Part Numbers:
849894-5001S