|




---




Quick inquiry about a product?
Want to resell?



Follow ATP Turbo



14mm Banjo Fitting Set for coolant lines - 3/8" (10mm) Barb (common size)
Quantity in Basket: None
Code: ATP-FTG-004
Price:

$18.00


Shipping Weight: 0.10 pounds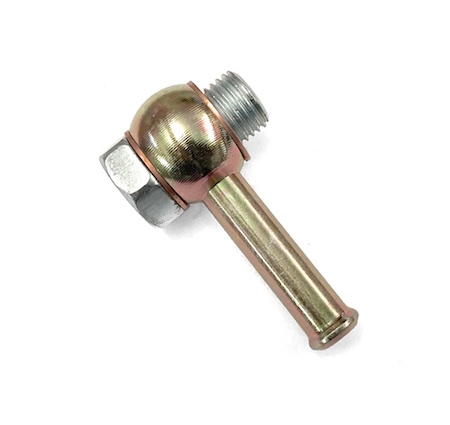 CLICK HERE for more coolant fitting options
Product Description:
Banjo fitting kit for coolant (water) ports on Garrett ball bearing GT25, GT28, GTX28, GTX29, GT30, GTX30, GT35 and GTX35 series turbochargers. Also compatible with Garrett ball bearing GTW34, GTW36, and GTW38 series turbochargers.

14mm Banjo to 3/8" (10mm) Hose Barb. Shaft length (end of banjo eye to barb end): 35mm.
Product Contents:
(1 unit) 14mm steel banjo fitting with hose barb end (Optional: Pushlock barb fitting * NOW same price *)
(1 unit) Banjo Bolt (Optional compact head; ideal for tight clearances; +$3.00)
(2 units) Crush Washers
Related Item(s)
Related Parts:
Code
Name
Price
ATP-FTG-003
Banjo Fitting Kit for coolant lines - 14mm Machined Alum to 1/4" NPT
$22.00
ATP-FTG-002
Banjo Fitting - 14mm banjo to 1/4" NPT (Banjo Only)
$14.00
ATP-FTG-012
Fitting, Metric 14mm to -6AN, Male to Male (For coolant or oil) GT/GTX28 30 35
$14.95
ATP-FTG-025
3/8" (10mm) Hose, Black, Re-inforced Rubber, 300psi, 3/8" barb or -6 pushlock
$6.95
ATP-FTG-050
Banjo Bolt, 14mm x 1.5 pitch w/ 2 crush washers
$9.95
ATP-FTG-053
Banjo Fitting Kit, (1) ALUM Banjo fitting 14mm hole (for 14mm bolt) with -6 AN male flare
$29.90
ATP-FTG-052
ALUM Banjo Fitting, 14mm hole (for 14mm bolt) with -6 AN male flare.
$19.95
ATP-FTG-155
Banjo Fitting Kit - 14mm With 3/8" Pushlock
$14.95