Garrett Turbocharger, T3/T4E, 57Trim Compressor, StageIII Turbine
Quantity in Basket:
None
Code:
GRT-TBO-038
Price:
$895.00
Shipping Weight:
3.00
pounds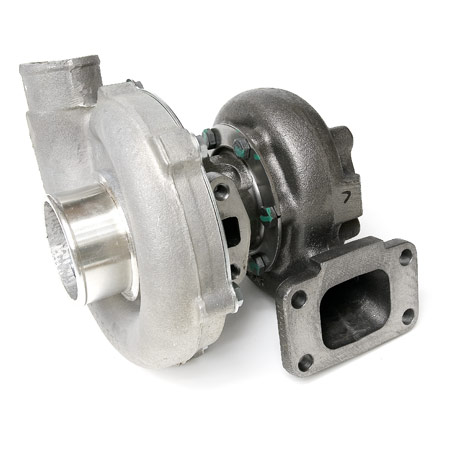 Turbocharger - Garrett T3/T4E, 57 trim compressor, T3, 4 Bolt (2.5") discharge StageIII. Oil cooled only, water lines not required. Good common use hybrid turbo used on variety of engines up to 450 crank HP. Garrett factory assembled and balanced turbo for OEM reliability.
This unit is usually in stock and ships withing 1-2 days.
Applicable Garrett P/N's:
466159-5003
466159-5005
Code
Name
Price
ATP-FLA-008
Aluminum - Oil Inlet (Feed) Flange (T3 T4 GT37, GT40, GT42, GT45, GT47, GTX50, GT55)
$15.00
ATP-FLA-009
Aluminum - Oil Drain (Return) Flange T3 /T4, GT37, GT40, GT42, GTX42, GTX45
$13.95
GRT-GSK-007
Oil Drain ( Return ) Flange Gasket (T3, GT37, GT40, GT42, GT45, GTX40, GTX42, GTX45)
$1.65
GRT-GSK-011
Oil inlet feed flange Gasket - Feed Flange (T3, GT37, GT40, GT42, GT45, GT47, GTX50, GTX55)
$3.00
ATP-FLA-020
Oil Feed Flange with -4 Male Flare (T3, GT37, GT40, GT42, GT45, GT47, GTX50, GT55)
$14.95
ATP-FLA-024
Oil Drain (Return) Flange with -10 Male Flare (T3, GT37, GT40, GT42, GT45, GTX40 GTX45)
$19.95
ATP-FLA-025
Oil Drain (Return) Flange with 5/8" slip-on Barb (T3, GT37, GT40, GT42, GT45, GTX42 GTX45)
$19.00
ATP-GSK-015
Gasket, T3 Turbine Inlet, DIVIDED
$9.00
GRT-GSK-004
Gasket, T25/GT25 Turbine Inlet for GT25 GT28/GTX28
$6.95
ATP-GSK-016
Gasket, 5-Bolt for Garrett T25 Flanged GT28 GTX28/2930R-WG Turbine Housings
$6.95
GRT-GSK-005
Gasket, T3 Turbine Inlet - UNDIVIDED
$6.95
ATP-GSK-019
Gasket for T3 5 Bolt (Ford Style) Turbine Outlet Flange (Externally Gated)
$9.00