** ATP IS SHIPPING EVERYDAY DURING THIS NEW COVID-19 WORLD ORDER **
Catalog Home
>
Oil Supply
>
031-060
Oil Feed Flange with -3 AN/JIC Male Flare (T3, GT37, GT40, GT42, GT45, GT47, GTX50, GT55)
Quantity in Basket:
None
Code:
ATP-FLA-026
Price:
$29.00
Shipping Weight:
1.00
pounds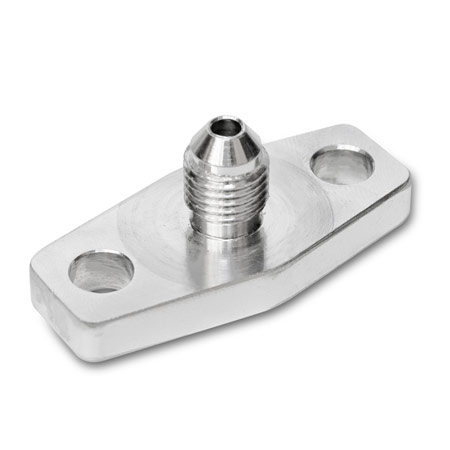 PRODUCT DESCRIPTION:
Oil feed flange with integrated -3 AN/JIC male flare. Low profile one piece design for easy installation. Intended for compatible turbochargers without a threaded oil feed port. 1.5" bolt center to bolt center spacing.
Requires oil feed flange gasket and two 8mm thread x 1.25 pitch fasteners to install and fasten the oil feed flange to the turbo.
INSTALLATION COMPONENTS:
(one unit) Oil inlet feed flange gasket (GRT-GSK-011)
(two units) 8mm thread by 1.25 pitch studs (MIA-FST-030)
(two units) 8mm thread by 1.25 pitch nuts (MIA-FST-031)
PRODUCT COMPATIBILITY:
T3, T3/T4, T4
GT journal bearing GT32, GT4088, GT4294, GT4202, GT4708, GT4718
GT3788R
GT40/GTX40, including GT4088R, GTX4088R, GT4049R
GT42/GTX42, including GT4294R (GT42R), GTX4294R, GT4202R (GT42RS), GTX4202R
GT45/GTX45, including GT4508R, GTX4502R, GTX4508R
GT47/GTX47, including GT4708R, GTX4708R, GT4718R, GTX4718R
GTX50, including GTX508R, GTX5018R
GT55/GTX55, including GT5518R, GTX5518R, GT5533R, GTX5533R
Related Item(s)
Related Parts:
Code
Name
Price
GRT-GSK-011
Oil inlet feed flange Gasket - Feed Flange (T3, GT37, GT40, GT42, GT45, GT47, GTX50, GTX55)
$3.00