** ATP IS SHIPPING EVERYDAY DURING THIS NEW COVID-19 WORLD ORDER **
Catalog Home
>
Vehicle Specific
>
Mazdaspeed3
Oil feed line assembly for GT or GTX on the Mazdaspeed 3/6 Turbo Engine
Quantity in Basket:
None
Code:
ATP-MS3-038
Price:
$79.00
Shipping Weight:
1.00
pounds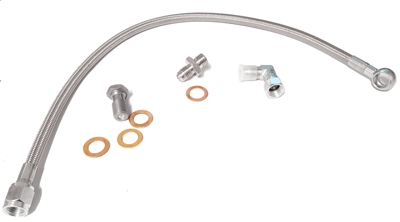 Product Description:
Oil feed line assembly for GT or GTX on the Mazdaspeed 3/6 Turbo Engine.

Steel braided oil feed line kit with fitting/restrictor for the GT/GTX turbo and the proper adapter for the engine side. If you don't want to use the factory hardline feedtube when going GT/GTX stock location on all Mazdaspeed custom installs.