** ATP IS SHIPPING EVERYDAY DURING THIS NEW COVID-19 WORLD ORDER **
Catalog Home
>
Turbos & Housings
>
Garrett GT - Ball Bearing
>
GT Turbos With Special Turbine Housings
>
GT2860RS With Special Housings
-4 size Oil inlet fitting for GT28 GTX28 GT30 GTX30 GT35R G25 G30 G35 w/ built-in .035" RESTRICTOR
Quantity in Basket:
None
Code:
ATP-OIL-021
Price:
$12.00
Shipping Weight:
0.10
pounds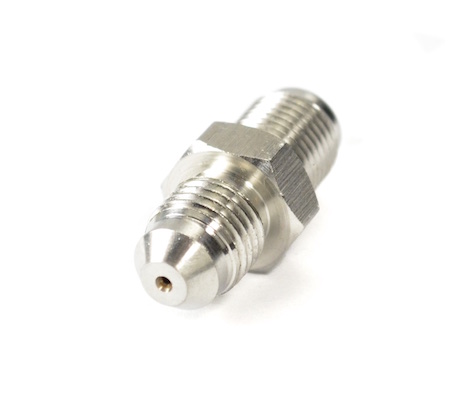 CLICK HERE for more restrictor options
Product Description:
-4 (-4AN) Size oil inlet restrictor fitting (0.035" orifice / hole size) for Garrett GT and GTX Ball Bearing Turbochargers. Output is -4AN male flare. High durability and reusable Stainless Steel material.

Use with any -4AN oil feed lines with a -4AN female hose end!

Fits Garrett GT25R, GT28R, GT30R, GT35R, GTX28R, GTX29R, GTX30R, and GTX35R series models.

Please Note: NEVER use thread sealant with this fitting. The fitting engages with the mating part and creates a "compression" seal once installed. Any type of liquid or thread sealant used will run the risk of plugging up the oil feed port causing oil starvation and failure of the turbo..
PLEASE NOTE:
Related Item(s)
Related Parts:
Code
Name
Price
ATP-OIL-014
Oil Feed Line #4 (-4 AN) - SS Braid 3 Ft. (36 inches) Length
$34.00
ATP-OIL-015
Oil Feed Line #4 (-4 AN) - SS Braid 4 Ft. (48 inches) Length
$34.00
ATP-OIL-016
Oil Feed Line #4 (-4 AN) - SS Braid 5 Ft. (60 inches) Length
$44.00
CUSTOM-OIL-FEED-LINE
Custom Oil Feed Line - Built to Order #4 (-4 AN) size Steel Braided
$28.00
ATP-FTG-029
-4 size Oil inlet fitting for T25/T28 or unrestricted GT25R/GT28R/GT30R/GT35R
$8.50
ATP-OIL-033
Oil Feed Line #4 (-4 AN) - SS Braid, 1 Foot (12 inches) length
$34.00
ATP-OIL-034
Oil Feed Line #4 (-4 AN) - SS Braid, 2 Foot (24 inches) length
$34.00
ATP-OIL-035
Oil Feed Line #4 (-4 AN) - SS Braid, 18 inches length
$34.00
ATP-OIL-036
-3 size Oil inlet fitting for GT28 GTX28 GT30 GTX30 GT35R G25 G30 G35 w/ built-in .035" RESTRICTOR
$12.00
ATP-FTG-065
Black anodized -4 AN STRAIGHT hose end
$7.95
ATP-FTG-066
Black anodized -4 AN 45 DEGREE hose end
$14.95
ATP-FTG-064
Steel Braided Hose, -4 AN size
$8.25
ATP-FTG-038
UNRESTRICTED Banjo Bolt for Low Profile oil inlet - GT & GTX (GT25 through GTX35)Ball Bearing Turbo
$14.95