** ATP IS SHIPPING EVERYDAY DURING THIS NEW COVID-19 WORLD ORDER **
Catalog Home
>
Vehicle Specific
>
Subaru WRX / STI
BLUE High Temp Special Rubber Oil Drain (Return) Hose - 5/8" (-10 AN equivalent ID) for Barb or -10
Quantity in Basket:
None
Code:
ATP-OIL-024
Price:
$8.00
Shipping Weight:
0.50
pounds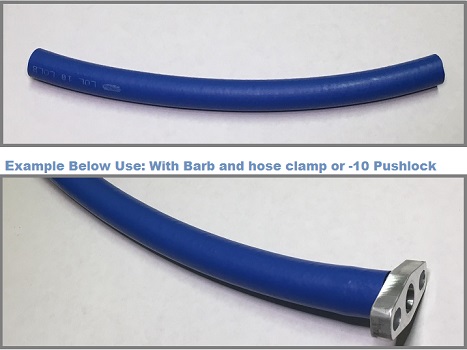 Product Description:
High Temp Special Rubber Hose for oil return (oil Drain) 5/8" (-10 equivalent inner diameter). Next best alternative to using steel braided hose - but allows better flexibility in line length. Line is multi-layer construction that handles heat better than conventional rubber hose. Use with ATP-OIL-023 and either drain flange depending on which turbo.


Price per foot, quantity ordered will be cut length.
Related Item(s)
Related Parts:
Code
Name
Price
ATP-OIL-023
Oil Drain ( Return ) Fitting - 5/8" Slip-On Hose Barb - 1/2" NPT Male
$9.00
ATP-FTG-015
45 Degree Oil Drain ( Return ) Fitting - 5/8" Slip-On Hose Barb to 1/2" NPT Male
$19.95
ATP-FLA-023
Oil Return (Drain) Flange with integrated 5/8" barb For GT15 Through GT35R, GTX28 GTX30 GTX35 G25
$19.95
ATP-FLA-025
Oil Drain (Return) Flange with 5/8" slip-on Barb (T3, GT37, GT40, GT42, GT45, GTX42 GTX45)
$19.00
ATP-OIL-031
Alum 5 Degree Tilt Oil Drain Tube - GT25/GT28/GT30/GT35 GX28 GTX30 GTX35 G Series, 5/8" hose barb
$29.00
ATP-OIL-042
Oil Drain (Return) Tube w/Integ Flange T3/T4 GTX40 GTX42 GTX45 5 degree tilted/angled 5/8" hose barb
$29.00
ATP-OIL-046
Oil Drain (Return) LONG STRAIGHT Tube with Integrated Flanged, T3, T4, T3/T4, GT40R, GT42R GTX42 GTX
$29.00
CLC-CLA-060
5/8" Hose Clamp (Worm Gear - Screw Type) for 5/8" tube with a 5/8" ID hose (such as oil drain/return
$1.25