** ATP IS SHIPPING EVERYDAY DURING THIS NEW COVID-19 WORLD ORDER **
Catalog Home
>
Turbos & Housings
>
Garrett GT - Ball Bearing
>
GT3582R With Special Housings
Turbocharger, GT3582R DBB with RB25DET T3 6 bolt exit turbine hsg w/ 1 bar int wgt. actuator
Quantity in Basket:
None
Code:
GRT-TBO-J27
Price:
$1,695.00
Shipping Weight:
3.00
pounds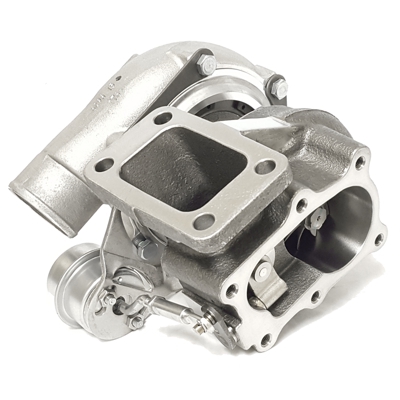 Product Description:
Garrett GT3582R dual ball bearing turbocharger with RB25DET T3 6 bolt exit turbine housing and compact compressor housing. This is a drop-in ready RB25DET turbo complete with a 1 bar internal wastegate actuator. 650+HP potential flow.
Product Features:
Genuine Garrett GT Aero compressor wheel
Genuine Garrett GT Inconel turbine wheel
Dual ball bearing CHRA rotating assembly
Product Specifications:
Compressor Wheel Inducer: 61.4mm
Compressor Wheel Exducer: 82mm
Compressor Wheel Trim: 56
Compressor Housing: 0.70 A/R
Turbine Wheel Inducer: 68mm
Turbine Wheel Exducer: 62.3mm
Turbine Wheel Trim: 84
Coolant (Water) & Oil Fittings, Flanges, and Components Solutions:


NOTE: Alternate coolant and oil fittings and flanges, sold separately, are needed to connect the GT/GTX turbo.
Compressor & Turbine Maps:
Applicable Garrett Part Numbers: