Catalog Home
>
Garrett Product Search
>
New Garrett Products
Turbo Assembly Kit, G42-1200C, O/V V-Band / V-Band 1.01 A/R, Compact CHS, Garrett P/N 879779-5001S
Quantity in Basket:
None
Code:
GRT-TBO-J94
Price:
$3,229.99
Shipping Weight:
3.00
pounds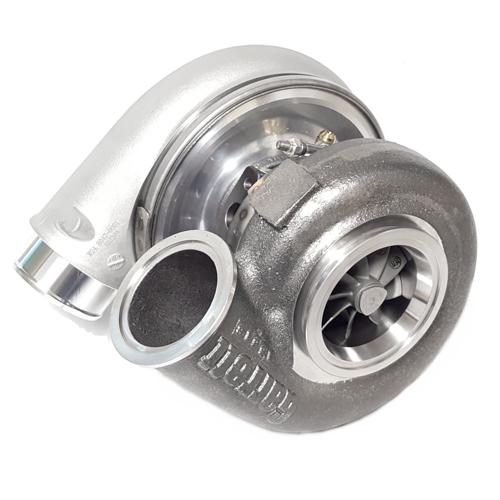 Product Description:
Garrett® G42-1200 compact turbo assembly kit with 1.01 A/R v-band inlet/outlet turbine housing. Capable of 1200HP!


Product Features:
Quick spooling, high horsepower solution for 2.0 liter up to 7.0 liter engine platforms
Ten blade, forged, fully-machined G Series compressor wheel with high flowing aero
Low inertia compressor wheel resulting in faster boost response
New turbine aero wheel flows 10% more and has peak efficiency of 77% (Compared to GTX42 at 74% with 1.01A/R)
Engineered with inconel super alloy to withstand operating temperatures up to 950C
Compact option is 4mm shorter axially and 29mm smaller radially than the standard G42
Product Specifications:
Compressor Wheel Inducer: 73mm
Compressor Wheel Exducer: 91mm
Compressor Wheel Trim: 65
Compressor Housing A/R: 0.90 w/ 4" inlet and 3" outlet hose connections
Turbine Wheel Inducer: 82mm
Turbine Wheel Exducer: 75mm
Turbine Wheel Trim: 84
Coolant (Water) & Oil Fittings, Flanges, and Components Solutions:


NOTE: Alternate coolant and oil fittings and flanges are available.
Compressor & Turbine Maps:
Garrett Part Numbers: