** ATP IS SHIPPING EVERYDAY DURING THIS NEW COVID-19 WORLD ORDER **
Catalog Home
>
Turbos & Housings
>
Garrett GTX Gen2
>
Garrett GTX3071R Gen2 Variants
GEN2 - Garrett GTX3071R Turbo w/ Divided .78 A/R T3 Turbine Housing w/3" VBAND Exit
Quantity in Basket:
None
Code:
GRT-TBO-782
Price:
$1,759.00
Shipping Weight:
3.00
pounds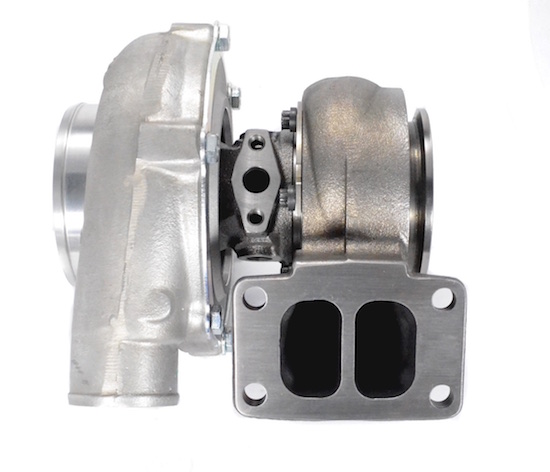 Click to enlarge images
PRODUCT DESCRIPTION:
Garrett GEN2 GTX3071R dual ball bearing turbocharger, including T3 Divided Inlet and 3 Inch V-Band Outlet .78 A/R Turbine Housing (ATP-HSG-009). Advanced GEN2 billet compressor wheel capable of 650HP!
PRODUCT FEATURES:
Advanced aerodynamics & ultra high flow Garrett GTX GEN2 compressor wheel
Forged billet aluminum compressor wheel
Dual ball bearing CHRA rotating assembly
PRODUCT SPECIFICATIONS:
Compressor Wheel Inducer: 54mm
Compressor Wheel Exducer: 71mm
Compressor Wheel Trim: 58
Compressor Housing A/R: 0.60
Turbine Wheel Inducer: 60mm
Turbine Wheel Exducer: 55mm
Turbine Wheel Trim: 84
COOLANT (WATER) & OIL FITTINGS, FLANGES, AND COMPONENTS SOLUTIONS:
Coolant - Water Options (Requires 2 units): 14mm Coolant Fitting & Lines
Oil feed options: -4 AN with built-in Restrictor (Product Code: ATP-OIL-021)
Oil drain flange: Product Code: ATP-FLA-010
Oil drain gasket: Product Code: GRT-GSK-008
8mm x 1.25 (thread pitch) Stud: Product Code: MIA-FST-030
8mm x 1.25 (thread pitch) Locking Head Nut: Product Code: MIA-FST-031
T3 Divided Inlet Flange (for Turbo Manifold): Product Code:ATP-FLS-068
T3 Divided Inlet Gasket: Product Code:ATP-GSK-015
V-Band 3 Inch Outlet Flange (for Downpipe): Product Code:ATP-FLS-063
V-Band Outlet Clamp: Product Code:CLC-CLA-013
NOTE: Alternate coolant and oil fittings and flanges are available.
COMPRESSOR & TURBINE MAPS: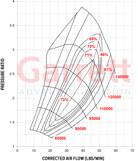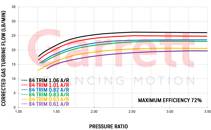 APPLICABLE GARRETT PART NUMBERS:
851154-5002S