** ATP IS SHIPPING EVERYDAY DURING THIS NEW COVID-19 WORLD ORDER **
Catalog Home
>
Turbos & Housings
>
Garrett GT - Ball Bearing
>
GT Turbos With Special Turbine Housings
>
GT2860RS With Special Housings
Garrett GT2860RS + TiAL .86 A/R Stainless V-Band Turbine Hsg.
Quantity in Basket:
None
Code:
GRT-TBO-907
Price:
$1,295.00
Shipping Weight:
3.00
pounds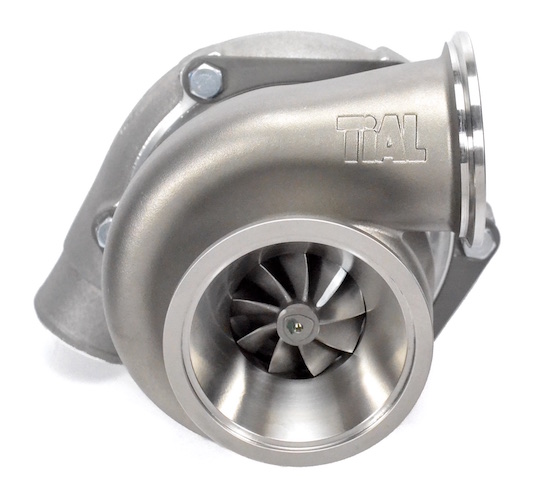 Click to enlarge images
PRODUCT DESCRIPTION:
Garrett GT2860RS (aka Disco Potato) ball bearing turbocharger and TiAL .86 A/R Stainless Steel V-Band Inlet and V-Band Outlet turbine housing. +350HP potential flow.
PRODUCT FEATURES:
Genuine Garrett GT Aero compressor wheel
Genuine Garrett GT Inconel turbine wheel
Dual ball bearing CHRA rotating assembly
PRODUCT SPECIFICATIONS:
Compressor Wheel Inducer: 47.2mm
Compressor Wheel Exducer: 60.1mm
Compressor Wheel Trim: 62
Compressor Housing A/R: 0.60
Turbine Wheel Inducer: 53.9mm
Turbine Wheel Exducer: 47mm
Turbine Wheel Trim: 76
COOLANT (WATER) & OIL FITTINGS, FLANGES, AND COMPONENTS SOLUTIONS:
Coolant - Water Options (Requires 2 units): 14mm Coolant Fitting & Lines
Oil feed options: -4 AN with built-in Restrictor (Product Code: ATP-OIL-021)
Oil drain flange: Product Code: ATP-FLA-010
Oil drain gasket: Product Code: GRT-GSK-008
8mm x 1.25 (thread pitch) Stud: Product Code: MIA-FST-030
8mm x 1.25 (thread pitch) Locking Head Nut: Product Code: MIA-FST-031
V-Band Inlet Flange (for Turbo Manifold): Product Code:ATP-FLS-093
V-Band Inlet Clamp: Product Code:CLC-CLA-025
V-Band Outlet Flange (for Downpipe): Product Code:ATP-FLS-094
V-Band Outlet Clamp: Product Code:CLC-CLA-026
COMPRESSOR & TURBINE MAPS: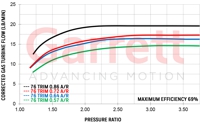 APPLICABLE GARRETT PART NUMBERS:
835998-0007