Quantity in Basket: None
Code: GRT-TBO-F82
Price:

$1,241.37


Shipping Weight: 3.00 pounds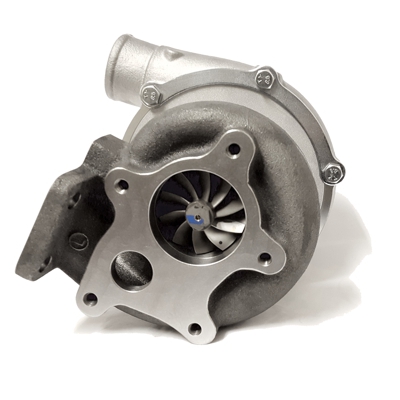 Product Description:
This is a full size GT3076R turbo with the 60mm Turbine and 76mm compressor wheel set up in the T3 Turbine housing and the native (T04E Frame) Compressor Housing with a Ported Shroud (Anti-Surge), 4" inlet and 2" outlet.

Garrett GT3076R ball bearing turbocharger and .63 A/R with a T3 5 BOLT-FRD-STYLE Turbine Housing. 525+HP potential flow. The larger 60mm turbine wheel compliments the 76mm compressor to make power without compromise.
Product Features:
Genuine Garrett GT Aero compressor wheel
Genuine Garrett GT Inconel turbine wheel
Dual ball bearing CHRA rotating assembly
Product Specifications:
Compressor Wheel Inducer: 57mm
Compressor Wheel Exducer: 76mm
Compressor Wheel Trim: 56
Compressor Housing A/R: 0.60
Turbine Wheel Inducer: 60mm
Turbine Wheel Exducer: 55mm
Turbine Wheel Trim: 84
Coolant (Water) & Oil Fittings, Flanges, and Components Solutions:
Compressor & Turbine Maps:
Applicable Garrett Part Numbers: