Catalog Home
>
Turbos & Housings
>
Garrett GTX Gen2
>
Garrett GTX3582R Gen2 Variants
GEN2 - Garrett GTX3582R (Compact T04E Frame GTX3076R Style Comp. Hsg.) & .83 A/R Garrett V-Band THS
Quantity in Basket:
None
Code:
GRT-TBO-895
Price:
$2,296.47
Shipping Weight:
3.00
pounds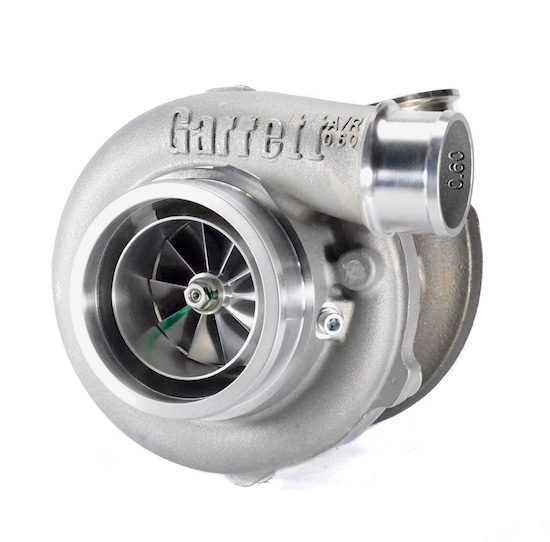 Click to enlarge images
PRODUCT DESCRIPTION:
Compact Frame Garrett GEN2 GTX3582R dual ball bearing turbocharger, including Ni-Resist V-Band Inlet and V-Band Outlet .83 A/R Turbine Housing. The 850HP Garrett Gen2 GTX3582R is NOW available as a drop-in upgrade for a GTX3076R!
Compact GEN2 GTX T04E Frame compressor housing with 4" ported shroud inlet, speed sensor port, and boost pressure source port. Recommended solution for setups unable to fit the standard T04S frame compressor housing.
PRODUCT FEATURES:
Advanced aerodynamics & ultra high flow Garrett GTX GEN2 compressor wheel
Forged billet aluminum compressor wheel
Dual ball bearing CHRA rotating assembly
PRODUCT SPECIFICATIONS:
Compressor Wheel Inducer: 66mm
Compressor Wheel Exducer: 82mm
Compressor Wheel Trim: 64
Compressor Housing: Compact T04E Frame, .60 A/R, 4" Ported Shroud Inlet, 2" out.
Turbine Wheel Inducer: 68mm
Turbine Wheel Exducer: 62mm
Turbine Wheel Trim: 84
COOLANT (WATER) & OIL FITTINGS, FLANGES, AND COMPONENTS SOLUTIONS:
Coolant - Water Options (Requires 2 units): 14mm Coolant Fitting & Lines
Oil feed options: -4 AN with built-in Restrictor (Product Code: ATP-OIL-021)
Oil drain flange: Product Code: ATP-FLA-010
Oil drain gasket: Product Code: GRT-GSK-008
8mm x 1.25 (thread pitch) Stud: Product Code: MIA-FST-030
8mm x 1.25 (thread pitch) Locking Head Nut: Product Code: MIA-FST-031
V-Band Inlet Flange (for Turbo Manifold): Product Code:ATP-FLS-191
V-Band Inlet Clamp: Product Code:CLC-CLA-047
V-Band Outlet Flange (for Downpipe): Product Code:ATP-FLS-246
V-Band Outlet Clamp: Product Code:CLC-CLA-048
NOTE: Alternate coolant and oil fittings and flanges are available.
COMPRESSOR & TURBINE MAPS: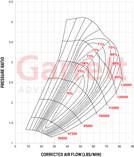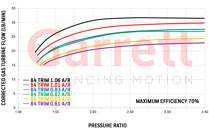 APPLICABLE GARRETT PART NUMBERS:
851154-5004S