** ATP IS SHIPPING EVERYDAY DURING THIS NEW COVID-19 WORLD ORDER **
Catalog Home
>
Turbos & Housings
>
Garrett GT - Ball Bearing
>
GT Turbos With Special Turbine Housings
>
GT2860RS With Special Housings
Garrett GT2860RS Turbo, .58 A/R T3 Inlet & GT 3" V-Band Outlet
Quantity in Basket:
None
Code:
GRT-TBO-R31
Price:
$1,175.00
Shipping Weight:
16.00
pounds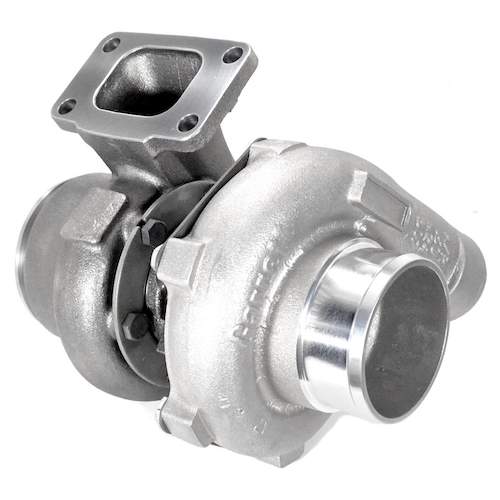 Click to enlarge images
PRODUCT DESCRIPTION:
Garrett GT2860RS (aka Disco Potato) ball bearing turbocharger with a T04B Frame Compressor Housing (3" Inlet and 2" Outlet) and .58 A/R T3 Inlet and GT 3" V-Band Outlet turbine housing. +350HP potential flow.
PRODUCT FEATURES:
Genuine Garrett GT Aero compressor wheel
Genuine Garrett GT Inconel turbine wheel
Dual ball bearing CHRA rotating assembly
PRODUCT SPECIFICATIONS:
Compressor Wheel Inducer: 47.2mm
Compressor Wheel Exducer: 60.1mm
Compressor Wheel Trim: 62
Compressor Housing: 0.60 A/R T04B Frame 3" Inlet and 2" Outlet
Turbine Wheel Inducer: 53.9mm
Turbine Wheel Exducer: 47mm
Turbine Wheel Trim: 76
Turbine Housing: 0.58 A/R T3 Inlet, GT 3" V-Band Outlet (footprint interchanges with GT30 housings)
Note on Turbine A/R Sizing. Because A/R size is relative to the turbine housing frame size, this "T3" Frame turbine housing in the .58 A/R flows a lot more than the .64 A/R on the internally gated "T25" frame turbine housing.
The bigger T3 pad opening allows the turbine flow to direct gases more efficiently to and out of the wheel so it's possible that you will see quicker spool and more power out of T3 .58 A/R housing.
COOLANT (WATER) & OIL FITTINGS, FLANGES, AND COMPONENTS SOLUTIONS:
Coolant - Water Options (Requires 2 units): 14mm Coolant Fitting & Lines
Oil feed options: -4 AN with built-in Restrictor (Product Code: ATP-OIL-021)
Oil drain flange: Product Code: ATP-FLA-010
Oil drain gasket: Product Code: GRT-GSK-008
8mm x 1.25 (thread pitch) Stud: Product Code: MIA-FST-030
8mm x 1.25 (thread pitch) Locking Head Nut: Product Code: MIA-FST-031
T3 Inlet Flange (for Turbo Manifold): Product Code:ATP-FLS-038
T3 Inlet Gasket: Product Code:GRT-GSK-005
GT 3" V-Band Outlet Flange (for Downpipe): Product Code:ATP-FLS-246
V-Band Clamp: Product Code:CLC-CLA-048
COMPRESSOR & TURBINE MAPS: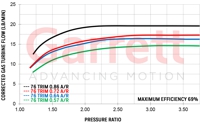 APPLICABLE GARRETT PART NUMBERS:
835998-0007